Carole and Ted's renovation
This builder-couple has built many a house for clients that has become a home, but this one was a bit different. Instead of building a new home, they decided to preserve this landmark 1950's house on property they were developing and restore it to pristine condition for their own use. Working on it with them was a privilege.
Entering the formal foyer brings us to the living room whose bay window dressed with elegant sheers sets the stage for the dramatic dining room.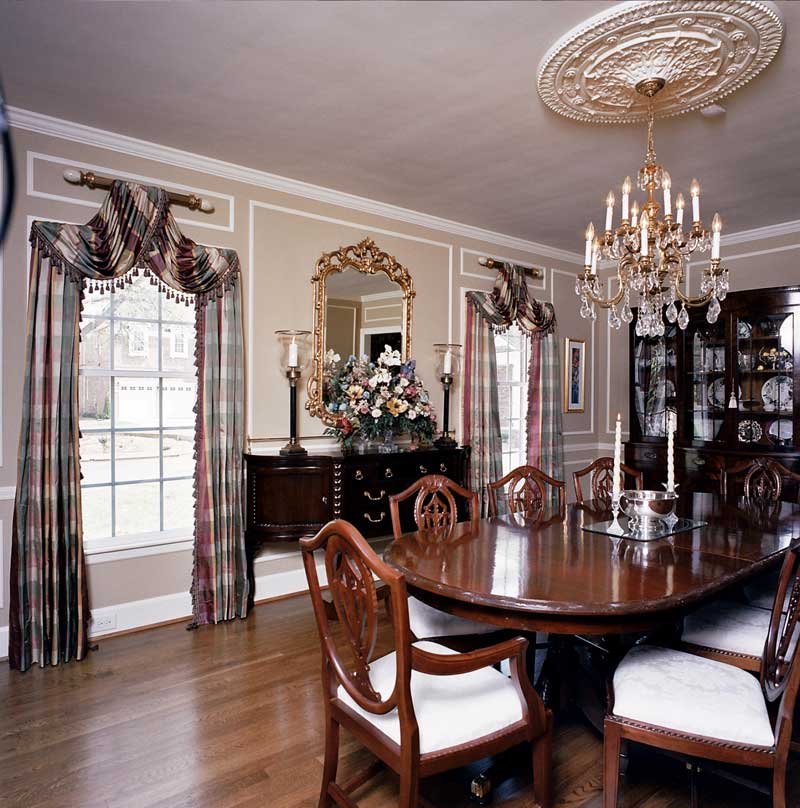 The existing dining room moldings provide the perfect spacing for the draperies.
The family room was transformed from dark and dingy to warm and bright with my suggestion of painting the ceiling and beams and adding solar skylights. The client's furnishings were enhanced by the fabric of the 12' valance and the reupholstering of Carole's favorite chair in red boucle trimmed in navy and red braided cording. Carole picked out the carpeting and had it bound to resemble a custom rug.
The window treatments in the renovated kitchen are outlined in Scalamandre's maraschino cherry trim – a perfect accent for this transformed and cheery space.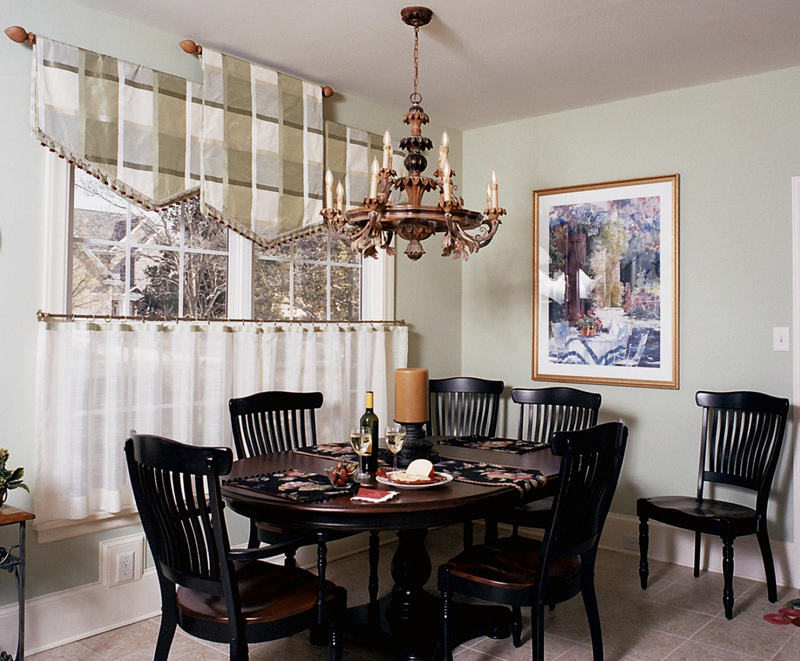 The powder room is a knock-out! Carole found the wallpaper and we went from there. My design of the window treatment disguises the off-center sink and provides privacy as well.
Serene and elegant come to mind when you walk into this master bedroom. The "ribbon and bow" fabric in the balloon shades worked so well with Carole and Ted's existing furniture and bedding that we used it as our starting point for wall color and draperies.
And the adjoining bathroom offers a tranquil spot for the lady of the house to enjoy a glass of wine! The elegant balloon drapes are trimmed with crystal beads.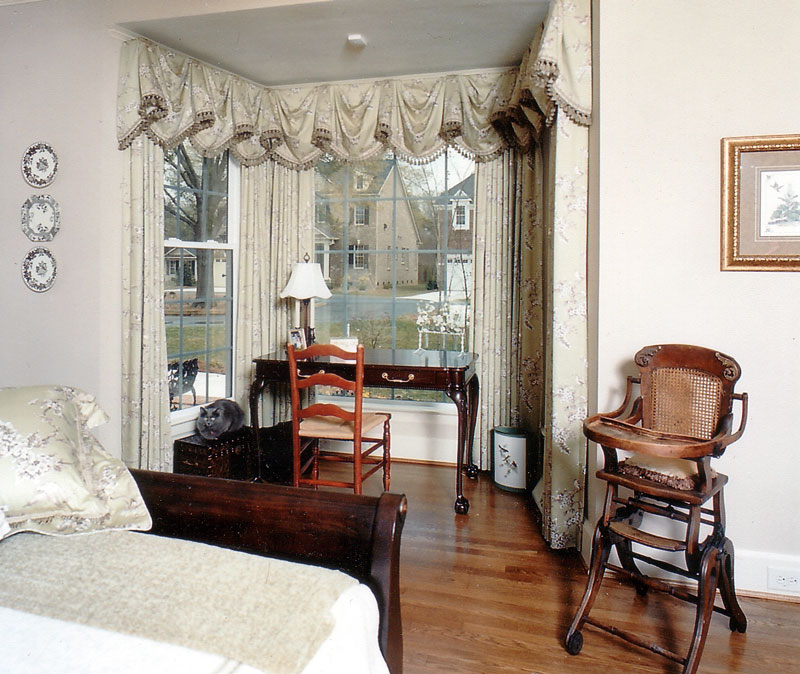 The guest bedroom's bay window is its focal point. The antique baby chair and "grandma's chair" at the desk are personal touches that add to the room's charm. Miss Gracie, their cat, enjoys the view.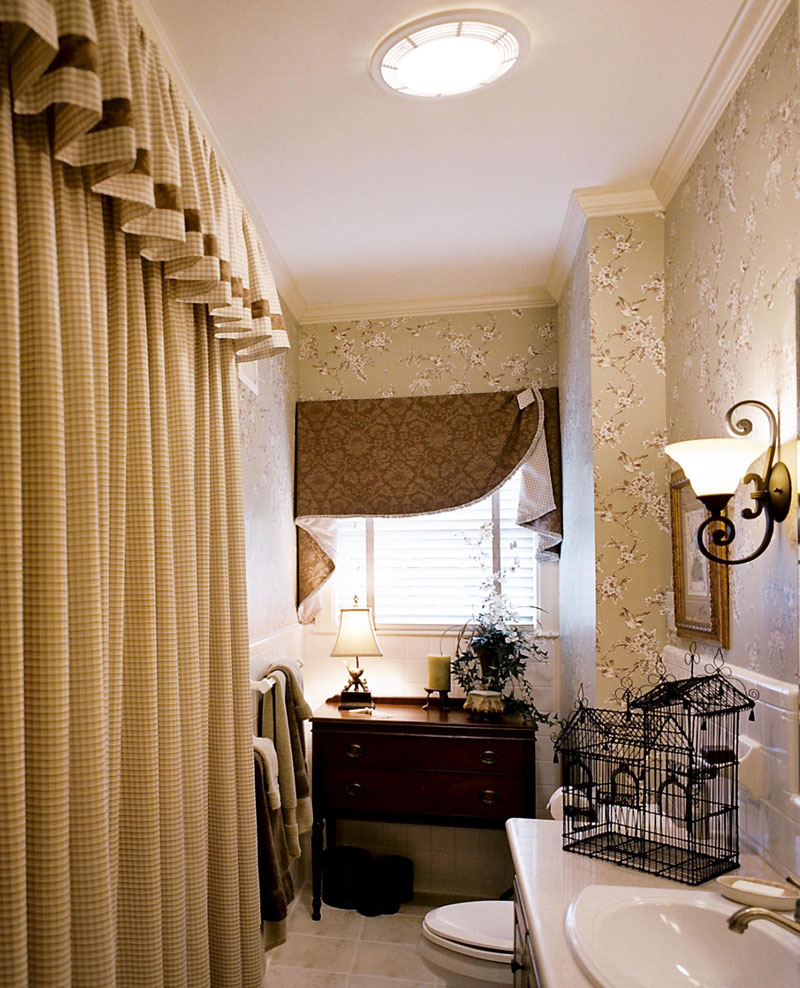 The guest/hall bath has matching wallpaper and the shower curtain operates on a traverse rod just like an elegant drapery. In turn, it hides the original tiled tub. Again, the window treatment is designed to hide the window not being in the center of the wall.
Their college-age daughter comes home to this fun and color filled room. I pulled the color for the walls from the Paris-themed wallpaper Carole chose for the bathroom and then selected the fabrics. The room matches its occupant – fun, smart, classy and beautiful.